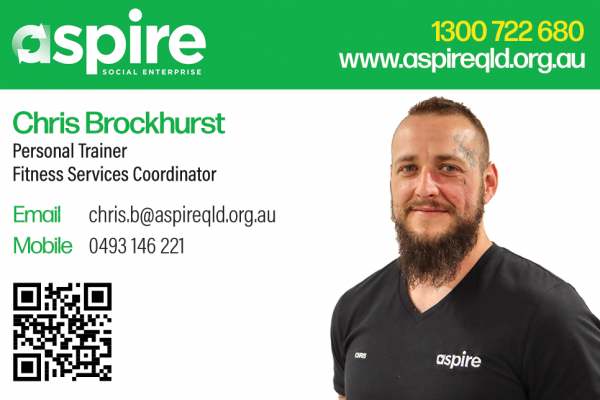 About Chris
 As a 17 year old, I battled with a diagnosed mental illness.  This lead to an unfulfilled life with a constant feeling of despair and hopelessness.  Consequently, I faced a constant struggle; I was heavily medicated to a point I could not function actively in society. I turned to illicit drugs and alcohol as coping mechanisms as I constantly felt like I was failing.
I turned things around through an introduction to fitness, where I found hope and a passion.  Through resistance training, I was able to take control of my life.  I was able to lose 40kg, and over time I was able to become medication free and achieve sobriety.  I began to aspire to better things.  Ultimately, my goal was to become a personal trainer to be able to impact the lives of others to give them hope.
Prior to the launch of Aspire, I obtained a Certificate III & IV in Fitness and achieved my goal of becoming a personal trainer.
My Role in Aspire
Since joining Aspire as a Personal Trainer and Fitness Services Coordinator, I have been working to develop services and initiatives to improve individual and group fitness outcomes.  This includes community based training such as SchoolFit, where I am able to provide hope and inspire youth to challenge themselves in a gym environment.
My desire is for people to find freedom and hope through their fitness journey.  If I can provide a foundation for people to conquer old habits through the development of new healthy ways, this provides me the greatest joy.
My heart is for others, be it youth through to the elderly.  I want others to aspire for better in life, just as I have achieved.