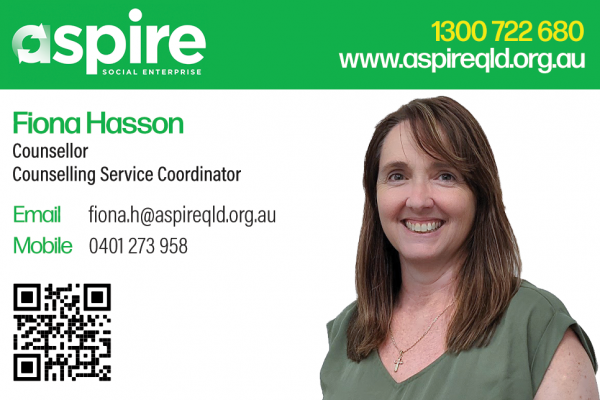 About Fiona
Being married to a soldier my family and I were lucky to be posted to the Moreton Bay area in 2005 and choose to remain here even after he left the Defence Force. Our children have been raised in this area, have roots in the community through both work and volunteering and even met their partners here. This area is our home.
I have a strong gift of compassion, and this enables me to be kind, empathetic, hold a sense of hope where others are struggling and provide unconditional love to people who haven't yet figured out that they are loved as they are.


My Role in Aspire
In September 2021 I commenced work with Aspire as the Counselling Service Coordinator with the goal of supporting people as they navigate life's challenges and focus on their personal and relational growth, healing, and resilience.
I've been extremely blessed to have incredible mentors that have helped guide my journey thus far and what I bring to this role is a testament to their investment and belief in my potential. I have a desire to see people grow, to listen to their stories, find the strengths among their narratives and step into their true selves.
Foundational to my practice is the belief that everybody has infinite worth and until they can see and hold it for themselves I will hold it for them.
Use the links below to get in touch with me to discuss any of your needs.