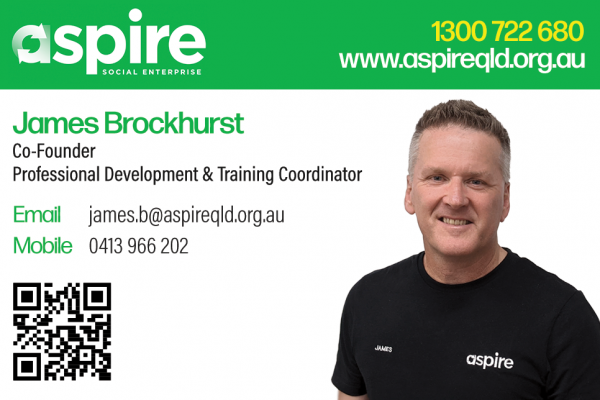 About James
In 2020, I co-founded Aspire Social Enterprise with the goal of supporting people to live their best lives around  employment aspirations in the Moreton Bay Region.
 After witnessing my son Chris walk his life journey which included a mental health diagnosis and significant medication strategy at the age of 17 years old I felt moved to find new solutions/pathways/opportunities for Chris and people in similar circumstances. Over the course of the following 12years post Chris's diagnosis he was verified as someone who was unable to work effectively in mainstream employment. He felt a deep sense of hopelessness and lack of vision for his life resulting in him at his lowest point making an attempt on his own life. He was clearly not seeing a future for himself and was certainly not living his best life.
That all changed when a friend of his took him to the gym in October 2018.Chris had finally found an environment where he thrived and that put him on a pathway to live his best life.
Following two years of hard work, turning up to gym on days when everything in him was telling him to stay in bed, rising above his diagnosis, his adversity and challenging circumstances Chris lost 40kgs and reduced his medications to nil. In 2020 Chris completed a face to face Cert 3 – Gym instructor and Cert 4 – personal trainer fitness course and is now fully qualified and ready to help people in similar circumstances. Chris is now on a pathway to live his best life.
I believe with Chris now leading Aspires PT service arm we can support people to break free of their challenges and adversity to step into their individual Aspirations to thrive in life.

My Role in Aspire
I have been blessed to have had many significant mentors and leaders that have invested in me and my professional career. I intend to pay this investment forward by equipping, educating and training the next generation of leaders in our local community. 
In the role of Professional Development & Training Coordinator, my focus is to provide mentoring and leadership training for business and education sectors to improve outcomes for both organisations and individuals. My desire is to see all of our local community thrive together where overall community health and well being is at the core of our decisions. 
Whether you are an organisation with a plan to see yourself and your team reach their full potential in an environment where everyone can thrive or an individual desiring to Aspire in life I believe I have the passion as well as the life & business experience to support you to achieve your intended outcomes.
 Use the links below to get in touch with me to discuss any of your needs.