As someone who's career revolves around technology, I am in a position of responsibility to advocate for the best use of technology.  Commonly, I see colleagues who are fixated with the utopian view that technology can solve everything.  However, we need to be responsible stewards of the technology by also highlighting the distopian impact that technology can have.  For me, the following statement from Sir Isaac Newton is spot on when it comes to technology, as there are unforeseen impacts whenever we deploy any new form of technology:
For every action, there is an
equal and opposite reaction.
Sir Isaac Newton's Third Law of Motion
What we need to protect ourselves and our families from?
As a child born in the 1980's who had to deal with extensive bullying throughout my schooling years, I was blessed that I could escape the torment through the safety of my home and sporting club.  This protection for the current generation has eroded, with social networking and online forums enabling 24/7 harm.
As highlighted in the Netflix documentary "The Social Dilemma", suicide and self harm in pre-teens and teens skyrocketed from 2009 when social media gained prevalence.
Another way technology can harm us is through the physical impacts of overuse / addiction, in particular with gaming:

"Research indicates that a number of risk factors are associated with Internet gaming addiction. These risk factors include certain personality traits, gaming motivations, and structural game characteristics. The personality traits most commonly associated with Internet addiction include neuroticism, aggression and hostility, and sensation-seeking."
Kuss D. J. (2013). Internet gaming addiction: current perspectives. Psychology research and behavior management, 6, 125–137. https://doi.org/10.2147/PRBM.S39476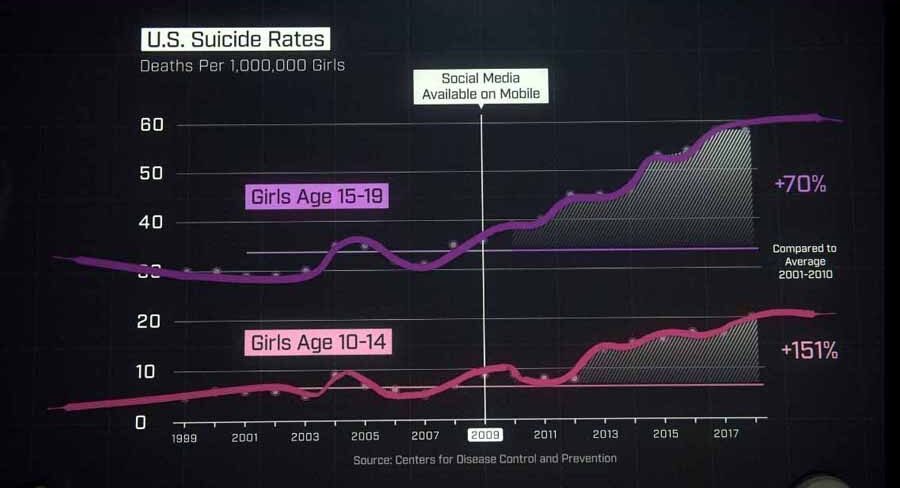 Image Credits: Netflix "The Social Dilemma"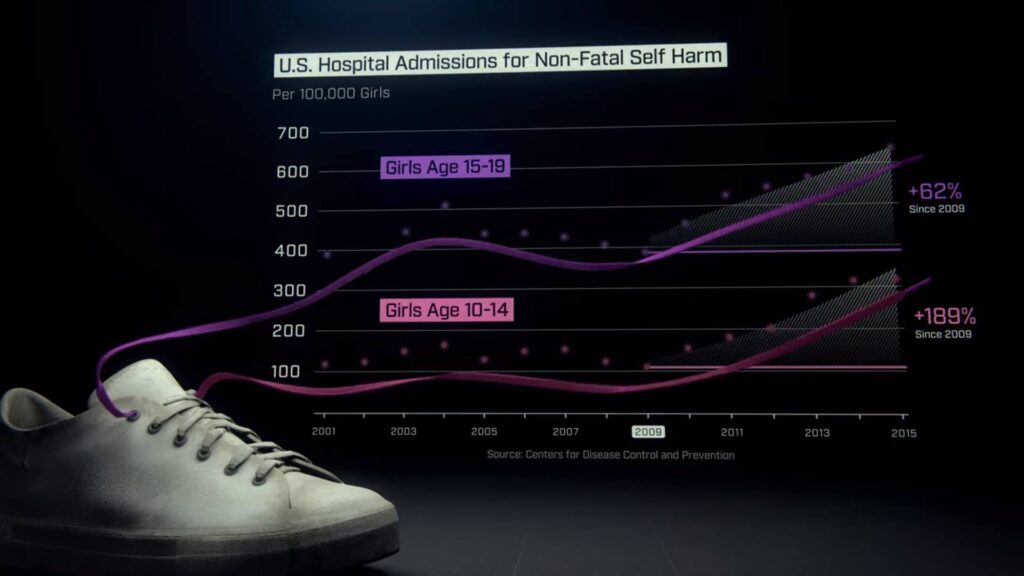 As highlighted by Australian Competition and Consumer Commission's Scamwatch data, the impact of reported online scams including investment, romance and business email compromise totaled $851 million in 2020 alone.  
Scamming does not discriminate, with parity between male and females, and an equal distribution of loss across age groups 25 years and above.  Children under 18 years are not immune to scams, making up for 1.4% of total figures with just shy of $500,000 of reported losses.
As scams have become more sophisticated as technology evolves, it is best to frequently check out the Scamwatch website to ensure you are up to date with the latest tricks and techniques being deployed.  Go to: https://www.scamwatch.gov.au/
Research by the Australian Institute of Family Studies (2016) demonstrates the increased exposure and harm to young people as a result of online pornography.
Data from the UK shows that 48% of children aged 11 to 16 have viewed internet pornography, with 34% viewing pornography once or more a week, and 19% watching daily.  This research implies there is a negative impact with the way that pornography impacts what is perceived as 'normal' sexual behaviour.  The data also showed that 13% of respondants have sent topless pictures of themselves, whilst 3% have sent fully naked pictures. (Martellozzo, et al. 2020)
Frequent use of online pornography or engaging in online affairs may jeopardise partner relationships. Even though relationship infidelity is not new, online relationships can develop more quickly due to lowered inhibitions, the lack of physical cues and the ease of exchanging information (Morris, 2002)
Statistics from the Commonwealth of Australia (2016) Office of the eSafety Commissioner indicate that 33% of young people have seen videos or images promoting terrorism online.
Tandoc (2019) has defined fake news as a form of falsehood intended to primarily deceive people by mimicking the look and feel of real news. While initial research has shown that only a small fraction of the online audience is exposed to fake news, for this small group of individuals, the impact of fake news can be quite substantial.
Studies have identified cognitive processes that make individuals more prone to the influence of fake news, such as confirmation bias, selective exposure, and lack of analytical thinking. Fake news also derives its power from its appeal to partisanship, perceived novelty, and repeated exposure facilitated by both bots and human users that share them in the online sphere (Tandoc, 2019).
Fact checking has also risen in response to fake news, studies have found that corrections to wrong information only works on some individuals (Tandoc, 2019).
Australian Government, Office of the eSafety Commissioner, Online Hate, Bullying and Violence: Young people's experience with online hate, bullying and violence. (Canberra, Commonwealth of Australia, 2016) <https://www.esafety.gov.au/research/young-people-social-cohesion/online-hate-bullying-violence>[2 June 2022]
Australian Institute of Family Studies (2016). Children and young people's exposure to pornography available at https://aifs.gov.au/cfca/2016/05/04/children-and-young-peoples-exposure-pornography
Benkler, Y. et al. (2013). Ch@nge: 19 key essays on how Internet is changing our lives. Madrid: BBVA.
Martellozzo, Elena , Monaghan, Andrew , Davidson, Julia and Adler, Joanna R. (2020) Researching the affects that on online pornography has on U.K. adolescents aged 11 to 16. SAGE Open, 10 (1) . pp. 1-11. ISSN 2158-2440 [Article] (doi:10.1177/2158244019899462)
Morris, S. (2002). How is the Internet affecting our relationships? Psychotherapy in Australia, 8(3), 42-47.
Tandoc, EC. The facts of fake news: A research review. Sociology Compass. 2019; 13:e12724. https://doi.org/10.1111/soc4.12724