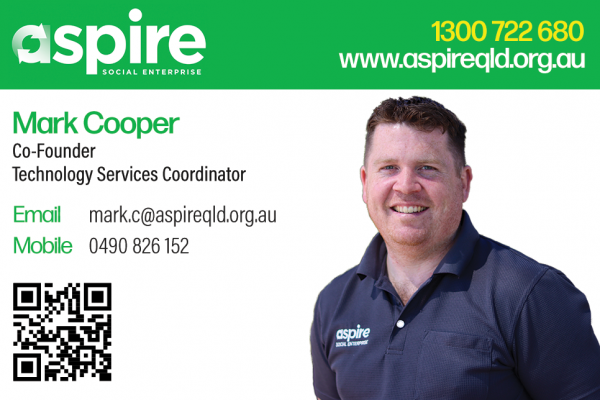 About Mark
 In 2020, I co-founded Aspire Social Enterprise with the goal of improving employment outcomes in Moreton Bay.
After moving to Moreton Bay in 2014, I fell in love with the region.  And how can you not love Moreton Bay? Enjoying the vista looking out to the Glasshouse Mountains, amazing afternoons with my young family dining at Saviges Seafood whilst enjoying the sea breeze on Bribie Island, playing a round at golf at one of our many stunning local courses, relaxing by the creek in Rocksberg (just to name a few things); I'm hooked!
But what has become clear to me is the lack of employment opportunities for unskilled and semi-skilled workers, with a decline locally over the past decade.
I have the conviction that it is up to all of us to improve social outcomes in our local region, and the best way I believe we can do this is to ensure there are adequate and equal employment opportunities for all.  I ask myself how will my kids gain employment as they mature to working age?  From this my drive to create Aspire was founded.
I believe we can have strong ethics and strive for excellence in business; we can use our skills and gifts for the benefit of others and still make a living.

My Role in Aspire
My focus with Aspire is to continue to great work with Technology and ICT service provision I started with my for profit business.  In the role of Technology Service Coordinator, my focus is to provide technology for business and education sectors to improve outcomes for the users.  Technology should enhance, not detract from the ability to do our work and our lifestyles.
No matter the solution, I can offer assistance to develop and implement best practice options for offices, boardrooms, classrooms, auditoriums, and foyers (just to name a few).
Use the links below to get in touch with me to discuss any of your needs.
Carmichael College Technology Overview
Westside Christian College Full School AV Upgrades
Boronia Heights State School Whiteboards and Pin Boards